WE PROTECT OPEN SPACES
For you. For plants and wildlife. Forever.
News from the Green Horizon
March 2017

|

Green Horizon Land Trust Annual Dinner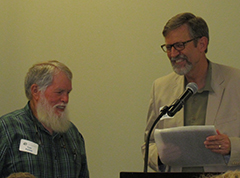 Our dinner program featured Tom Palmer presenting "A Veteran Reporter's Environmental History of Polk County & Florida." Tom retired from The Ledger after 36 years as Senior Reporter, Columnist, and Blogger in September 2016 (See Tom Palmer leaves a great legacy, The Ledger).
Read more about the Annual Dinner and see a slideshow of pictures.
Tom is also the recipient of our 2017 Blazing Star Award for his non-stop contributions. Read more about Tom.
Thanks to all our Annual Dinner sponsors: AMEC/Foster/Wheeler Environmental & Infrastructure, Bok Tower Gardens, Citizens Bank & Trust, Duke Energy, Mosaic, Pat Cain Wealth Solutions with Raymond James, and Victor Smith Law Group.
December 2016

|

Twenty Acres Added to Lewis Arboretum and Parrott Trial.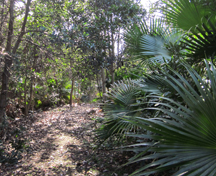 Just before Christmas 2016, Mr. Talbot Lewis donated approximately 20 additional acres, adjacent to the 40 acre Michael V. Lewis Arboretum and Luther C. Parrott Trail to Green Horizon Land Trust. The hiking trails and natural areas increased by 1/3 due to this donation in SE Winter Haven off of Overlook Drive. Many thanks to Mr. Lewis for his generosity! The arboretum and trails are open during daylight hours to the public with grassed parking off of Overlook Drive across from the entrance to Emily Estates and St. Matthew's Catholic Church.
October 2015

|

Generous New Land Donation on Lake Buffum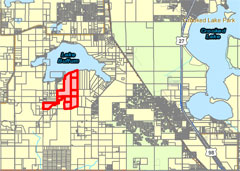 Green Horizon recently acquired 507.46 acres through inheritance and generous donation from the Estate of (the late) Barbara Lindsey Durrance and Myron Davis. This lovely parcel on the southern edge of Lake Buffum, Ft. Meade, FL is a significant addition, and we are grateful for the generosity of these families. The parcel is mostly wetland with interesting hydrological points, as well as wooded wildlife habitat for numerous species of flora and fauna.
September 27

|

New Signs Welcome Public to Lewis Arboretum and Parrott Trail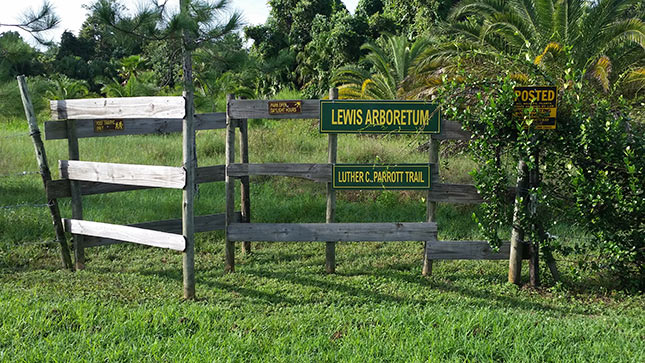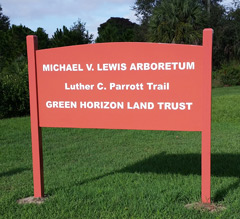 This summer Green Horizon Land Trust installed signs at Lewis Arboretum along Overlook Drive, Winter Haven, FL. The signs help the public locate the property, park their cars and find the trail.
The signs were donated by Talbot Lewis, who also donated the 42-acre parcel to Green Horizon Land Trust in March, 2011. The "arboretum," named in honor of Talbot's son, Michael V. Lewis, contains a mix of native and exotic ornamental plants reflecting Polk County's horticultural heritage. On February 18, 2013, the gates opened for the public. The property now hosts a community park with a 1.4 mile trail named in honor of Luther Parrott, past executive director of Green Horizon, complete with strategically placed benches along the trail.
Read more about it here.
December 19

|

Longleaf Pine Tree Planting at Pedersen Preserve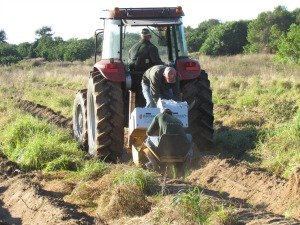 Four thousand (4,000) longleaf pine trees were planted at Pedersen Preserve (S. Scenic Highway 17, Dundee, FL) the morning of Thursday, December 19, 2013 as part of the planned pine tree restoration project on five (5) acres of old citrus grove fronting Hwy. 17.
This planting (and holiday season) kicked off our Plant - A - Tree Gift Certificate fundraiser. For each Certificate purchased, a longleaf pine tree will be planted at Pedersen Preserve, Dundee, FL, on behalf of the recipient. Each tree may be purchased for $10. Gift recipients will receive a Plant - A – Tree Certificate and map with directions to Pedersen Preserve to enable them to visit the pine forest, hike the trails and enjoy the preserve now and into the future as their pine tree (and the pine forest) grows. Plant - A - Tree Gift Certificates are available year round for special events, birthdays, anniversaries and holidays.
Plant – A – Tree Certificates are made possible through Green Horizon Land Trust's, Plant – A – Tree Certificate Program. Plant – A – Tree is a local, central Florida program providing families, schools, and communities with fun, hands-on opportunities to plant trees or simply gift trees that will be planted on the recipients behalf. All trees will be planted in Central Florida and are native species that help protect and restore natural areas that provide habitat for wildlife.
September 28

|

National Public Lands Day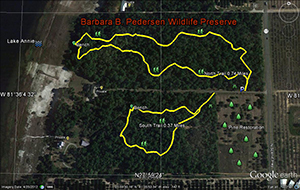 Volunteers from one Girl Scout Troop and one Brownie Troop participated in trail maintenance activities at Pedersen Preserve (S. Scenic Highway 17, Dundee, FL) the morning of Saturday, September 28, 2013. Thank you!
July 27

|

Ridge Ranger's Melaleuca Tree Removal Workday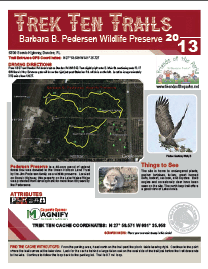 Invasive exotic Melaleuca trees were cut and treated with herbicide along the shoreline of Lake Annie at Pedersen Preserve (S. Scenic Highway 17, Dundee, FL) the morning of Saturday, July 27, 2013. Thank you to the more than one dozen Ridge Ranger volunteers who worked to make this day a success!
March 5

|

Bok Gardens Nature Trail Opens Onto Pine Land Preserve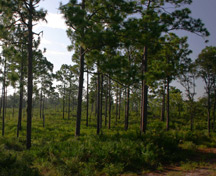 At 9:00 am on March 1, 2013, David Price, President of Bok Tower Gardens (also President of Green Horizon Land Trust), presided over the ribbon cutting that opened a 1.5 mile trail that winds through open lands surrounding Bok Tower Gardens. The preserve with its hiking trails, educational and interpretive signage, picnic shelters, recreational opportunities, and restoration work is the product of a partnership between Green Horizon Land Trust and Bok Tower Gardens, with the help and support of many other organizations. Read more....
---
February 23

|

Grand Opening of Michael V. Lewis Arboretum and Parrott Trail
More than 40 hikers joined us in celebrating the culmination of work to provide public access to this unique 42 acres of Florida Heritage in February. It's never too late to walk the trails and explore the largest collection of palms you'll encounter in central Florida. This hidden treasure is now protected forever due to the generosity of Tal Lewis who donated the Polk county landscape he had shaped and tended for over forty years... more