WE PROTECT OPEN SPACES
For you. For plants and wildlife. Forever.
News from the Green Horizon
February 9

|

Green Horizon Land Trust Annual Dinner Registration Now Open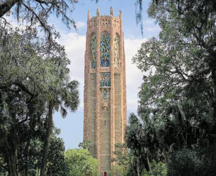 Join Us at Bok Tower Garden
1151 Tower Gardens Boulevard - Lake Wales, FL

$30 Donation per person
includes FREE entrance to the Gardens.
To attend, we must have your RSVP and full payment by
March 7, 2016.

On-line Reservations:



Or mail your donation
with This Form to:
Green Horizon Land Trust, Inc.
P.O. Box 2445
Lake Wales, FL 33859-2445

Questions?
Call: 863.678.1237
Email Us


Agenda
4:00 PM – Guided hike departs the Visitors Center
5:30 PM – Complimentary wine and beer reception
6:30 PM – Dinner and Program
Raffle / Silent Auction
Join us on Sunday, March 13 for our annual membership meeting and dinner at Bok Tower Garden and show your appreciation for Florida's open spaces. We'll begin with a guided hike at 4:00 pm, and gather for a wine and beer reception at 5:30 pm. This event is open to the public.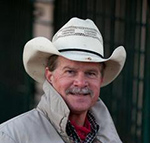 Our dinner program at 6:30 will feature Cary Lightsey, Cattleman, owner of Brahma Island. He be speaking on Conservation Land Easements and Brahma Island. The Lightsey family is committed to preserving and protecting their land. Conservation practices the family implements include rotational grazing and controlled pasture burning. They were the 2006 recipients of the Commissioner's Agricultural Environmental Leadership Award.
The Blazing Star Award will also be presented to The Lightsey Family. This award honors those who have made significant contributions to the preservation of environmentally sensitive lands or environmental education. More than 60% of all the Lightseys' property is in seven different types of conservation easements — preserving the land, wildlife and Florida's history.
This event is sponsored in part by Duke Energy, Charlotte Harbor National Estuary Program, Amec Foster Wheeler, and Mosaic. Sponsorship opportunities are still available. If you or your business can provide sponsorship assistance for the reception, silent auction, etc., please contact us at GreenHorizonLandTrust@gmail.com.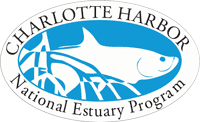 Cary Lightsey, Lightsey Cattle Company, describes the treasures found on Braha Island from Florida Farm Bureau CARES Recipient on Vimeo.
October 2015

|

Generous New Land Donation on Lake Buffum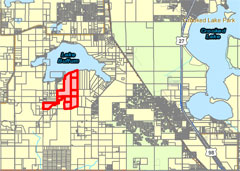 Green Horizon recently acquired 507.46 acres through inheritance and generous donation from the Estate of (the late) Barbara Lindsey Durrance and Myron Davis. This lovely parcel on the southern edge of Lake Buffum, Ft. Meade, FL is a significant addition, and we are grateful for the generosity of these families. The parcel is mostly wetland with interesting hydrological points, as well as wooded wildlife habitat for numerous species of flora and fauna.
March 18

|

Polk County's Environmental Lands Program Needs Your Help!
The 20-year authorization for the .2 mills of ad-valorem tax that Polk voters approved in 1994 for environmental lands is set to expire this year. The County Commission is planning to shift those tax dollars to transportation and Parks and Recreation to make up for funding shortfalls in those areas.
The Polk County Commissioners and County Manager need to hear from you that this important program should be continued. The hugely successful Environmental Lands Program (ELP) has purchased 26,000 acres over the last 20 years, with 72% of the cost funded by outside agencies via partnerships and grants.
The program manages 18,000 acres including 51 miles of trails. The ELP also operates Polk's Nature Discovery Center at the Circle B-Bar Reserve. Hundreds of groups use the Center, and thousands of students have participated in guided educational programs there.
Elimination of the Environmental Lands funding stream means that Polk County will only be able to maintain existing environmental lands and facilities.
There will be no new purchases of lands or conservation easements.
There will be no facility enhancements.
The Habitat Conservation Plan that would serve to streamline development applications, while conserving threatened and endangered species and the ecosystems they depend on, will not be completed or implemented.
There will be no dedicated funding source to leverage funds from Amendment 1 and grant programs.


Please write, call or email Board members and the County Manager using the addresses and numbers listed below.
Polk County Board of County Commissioners
Drawer BC01
P.O. Box 9005
Bartow, Florida 33831-9005
March 15

|

Green Horizon Land Trust 2015 Annual Dinner


Our 2015 annual membership meeting and dinner at Bok Tower Garden celebrated our appreciation for Florida's open spaces. Twenty of the 80 guests joined Green Horizon for the 4 p.m. hike to view the areas surrounding Bok Tower Gardens preserved through conservation programs of the Green Horizon and the Florida's Community Trust (FCT) partnership.

The smooth jazz sounds of the Changes Jazz Duo were enjoyed by everyone as they gathered in the reception area on the Blue Palmetto Cafe's patio before dinner. Chairman David Price opened the dinner meeting by thanking the sponsors: AMEC, Mosaic, Duke Energy and Charlotte Harbor National Estuary Program. David continued by sharing Green Horizon's accomplishments for 2014 and goals for 2015.

Among the evening's highlights was the presentation of The Blazing Star Award, honoring significant contributions to the preservation of environmentally-sensitive lands or environmental education. The 2015 recipient is Myra Zilahy, native of Babson Park, one of the founders of Green Horizon Land Trust, and past president of Defenders of Crooked Lake. For more about Blazing Star awards and their recipients, visit the Awards page.

The dinner program on "Citrus Greening" featured Dr. Harold Browning, the Chief Operations Officer of the Citrus Research and Development Foundation, a non-profit Direct Service Organization of the University of Florida. The annual meeting closed after the silent auction items were awarded and the raffle ticket winners were announced. We hope to see everyone in 2016 at Bok on Sunday, March 13!
September 27

 

|

New Signs Welcome Public to Lewis Arboretum and Parrott Trail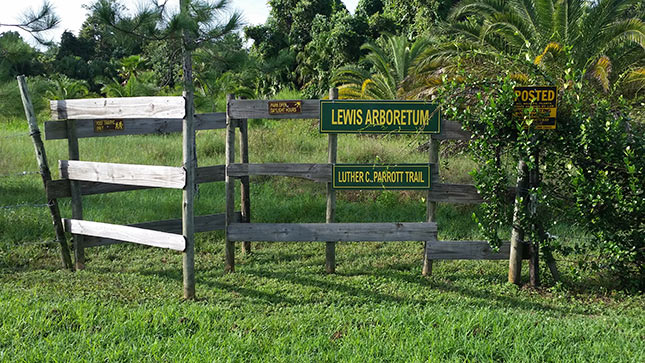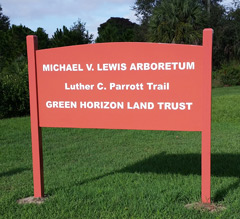 This summer Green Horizon Land Trust installed signs at Lewis Arboretum along Overlook Drive, Winter Haven, FL. The signs help the public locate the property, park their cars and find the trail.
The signs were donated by Talbot Lewis, who also donated the 42-acre parcel to Green Horizon Land Trust in March, 2011. The "arboretum," named in honor of Talbot's son, Michael V. Lewis, contains a mix of native and exotic ornamental plants reflecting Polk County's horticultural heritage. On February 18, 2013, the gates opened for the public. The property now hosts a community park with a 1.4 mile trail named in honor of Luther Parrott, past executive director of Green Horizon, complete with strategically placed benches along the trail.
Read more about it here.
 December 19

 

|

Longleaf Pine Tree Planting at Pedersen Preserve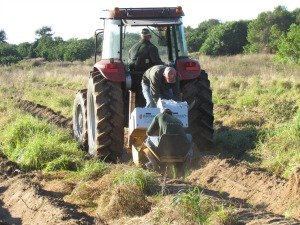 Four thousand (4,000) longleaf pine trees were planted at Pedersen Preserve (S. Scenic Highway 17, Dundee, FL) the morning of Thursday, December 19, 2013 as part of the planned pine tree restoration project on five (5) acres of old citrus grove fronting Hwy. 17. 
This planting (and holiday season) kicked off our Plant - A - Tree Gift Certificate fundraiser. For each Certificate purchased, a longleaf pine tree will be planted at Pedersen Preserve, Dundee, FL, on behalf of the recipient.  Each tree may be purchased for $10.  Gift recipients will receive a Plant - A – Tree Certificate and map with directions to Pedersen Preserve to enable them to visit the pine forest, hike the trails and enjoy the preserve now and into the future as their pine tree (and the pine forest) grows.  Plant - A - Tree Gift Certificates are available year round for special events, birthdays, anniversaries and holidays.
Plant – A – Tree Certificates are made possible through Green Horizon Land Trust's, Plant – A – Tree Certificate Program. Plant – A – Tree is a local, central Florida program providing families, schools, and communities with fun, hands-on opportunities to plant trees or simply gift trees that will be planted on the recipients behalf. All trees will be planted in Central Florida and are native species that help protect and restore natural areas that provide habitat for wildlife.  
September 28

|

National Public Lands Day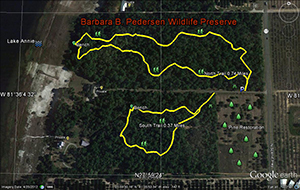 Volunteers from one Girl Scout Troop and one Brownie Troop participated in trail maintenance activities at Pedersen Preserve (S. Scenic Highway 17, Dundee, FL) the morning of Saturday, September 28, 2013.  Thank you!
July 27

 

|

Ridge Ranger's Melaleuca Tree Removal Workday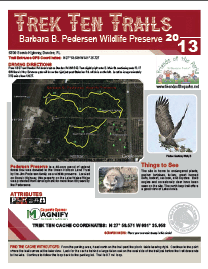 Invasive exotic Melaleuca trees were cut and treated with herbicide along the shoreline of Lake Annie at Pedersen Preserve (S. Scenic Highway 17, Dundee, FL) the morning of Saturday, July 27, 2013.  Thank you to the more than one dozen Ridge Ranger volunteers who worked to make this day a success! 
March 5

|

Bok Gardens Nature Trail Opens Onto Pine Land Preserve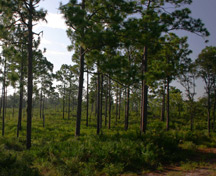 At 9:00 am on March 1, 2013, David Price, President of Bok Tower Gardens (also President of Green Horizon Land Trust), presided over the ribbon cutting that opened a 1.5 mile trail that winds through open lands surrounding Bok Tower Gardens. The preserve with its hiking trails, educational and interpretive signage, picnic shelters, recreational opportunities, and restoration work is the product of a partnership between Green Horizon Land Trust and Bok Tower Gardens, with the help and support of many other organizations. Read more....
---
February 23

|

Grand Opening of Michael V. Lewis Arboretum and Parrott Trail
More than 40 hikers joined us in celebrating the culmination of work to provide public access to this unique 42 acres of Florida Heritage in February.  It's never too late to walk the trails and explore the largest collection of palms you'll encounter in central Florida. This hidden treasure is now protected forever due to the generosity of Tal Lewis who donated the Polk county landscape he had shaped and tended for over forty years... more