SUPPORT
|
Land Conservation
Rather send your contribution by mail?

Please download and complete our support form here.
You will receive a receipt by mail when we receive your check.
Please mail your donation to:
Green Horizon Land Trust, Inc.
P.O. Box 2445
Lake Wales, FL 33859-2445
Wear Your Support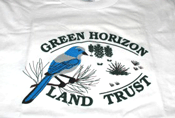 Show your support for Florida's Natural Lands and Green Horizon Land Trust!
T-shirts available in Large (L) and Extra Large (XL), only.
Printed on Jerzees Heavyweight Blend 50% Cotton/ 50% Polyester Activewear. ($10/shirt plus $2 postage.)
Join conveniently and securely online
Land conservation is a smart investment that attracts jobs and enhances property values. Communities that preserve land make an investment in future economic development.


Become a Corporate Partner
Central Florida businesses have a unique opportunity to enrich their community with the legacy of a peaceful natural environment.
Becoming a Corporate Partner will allow us to announce your business contribution in our newsletter, at our annual dinner, and on our website with a link to your site.
Just complete the membership form and send your contribution on-line or by mail, and we'll place you in the hall of fame.