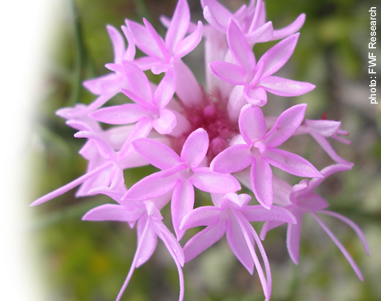 The scrub Blazing Star (Liatris ohlingerae) is a beautiful endangered plant species with a limited range of existence in the scrub of Central Florida.
Even rarer is the individual who has dedicated his or her energies and resources to the preservation and protection of the natural resources of this world.
Blazing Star Awards Recognize Preservation Champions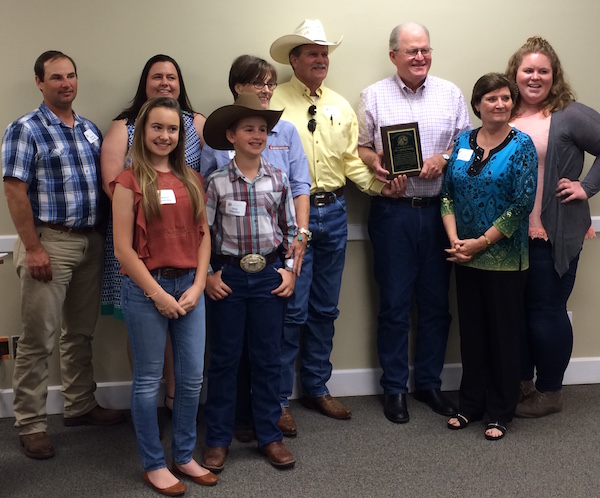 The Blazing Star Award was created by the Green Horizon Land Trust to recognize and honor the efforts of an individual who has made a significant contribution to the preservation of environmental sensitive lands or to environmental education in the state of Florida and particularly, Central Florida.
Recipients since the award's inception in 2001 include:
Tom Palmer, 2017
The Lightsey Family, 2016
Myra Zilahy, 2015
Rick Dantzler, 2014
Buck and Linda Cooper, 2013
Charles Geanangel, 2012
Gaye Sharpe, 2011
Virginia McKinley, 2010
Marian Ryan, 2009
Martha Sehi, 2008
Senator Paula Dockery, 2007
Nancy Bissett, 2006
Frances and Richard Coleman, 2005
Ken and Helen Morrison 2004
John Perry, 2003
M. C. Davis, 2002
Yvone Babb, 2001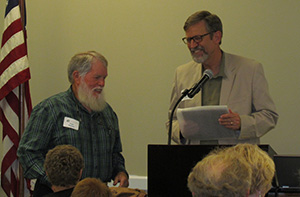 In his spare time he has volunteered for bird, butterfly and plant surveys, and land management projects on local conservation lands. Since 2002 he has been a volunteer land steward at Lake Blue Scrub, a 78-acre preserve managed by the Florida Fish and Wildlife Conservation Commission.
He also has worked with land managers and attends regular meetings to keep up with evolving issues pertaining to conservation issues in Florida. You'll often find Tom at lake cleanups and other activities to raise awareness about the proper stewardship of conservation lands in Central Florida.
A great Legacy
Recipient of our 2017 Blazing Star Award, Tom's contributions have been non-stop. At Lake Blue Scrub, he has conducted trash cleanups, monitored rare plants and animals and fence lines. He has helped state and federal officials to locate suitable sites for the introduction of Scrub Lupine as part of an Endangered Species Act recovery project.
Tom's environmental writing career has been consistently award-winning, most recently, the Florida Press Club's 2015 1st Place Award for Environmental Writing. You have seen his work in the Florida Field Naturalist, Sida, Guide to the Great Florida Birding Trail, Polk County Historical Quarterly, Florida Historical Quarterly, American Forests and The Palmetto.

A Family Tradition
The 2016 Blazing Star Award was presented to The Lightsey Family. For 6 generations, since the 1850s, the Lightsey family has worked the land in Central FLorida, passing down their values and traditions along with their property. They are committed to preserving and protecting the land. The family implements conservation practices such as rotational grazing and controlled pasture burning.
Lightsey Cattle Company had one of the first major conservation easements in Florida over 34 years ago. They have been pioneers in protecting wetlands, scrub, hammocks, and pine flatwoods, and the wildlife those ecosystems support. Nearly 70% of the Lightsey Cattle Company land is currently in seven different types of conservation easements, preserving Florida's history along with the land, water, and wildlife. The 11,000+ acres make up four separate ranches owned and operated by brothers Layne and Cary. Tiger Lake Ranch and West Lake Wales Ranch are in Polk County. The XL Ranch is in Highlands County. And Brahma Island, in Lake Kissimmee, is in Osceola County.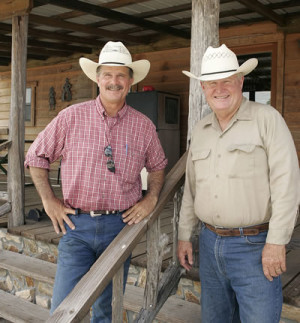 The 2016 Audubon Florida "Sustainable Rancher of the Year" was presented to the family's Lightsey Cattle Company Ranch. The family was also the 2006 recipient of the Commissioner's Agricultural Environmental Leadership Award.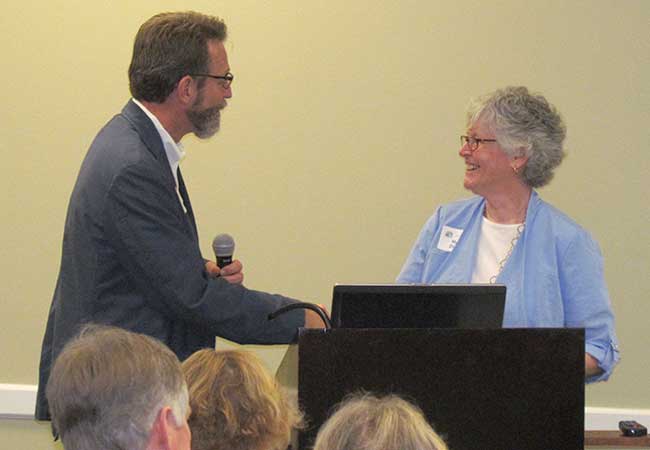 A Champion for Conservation
Myra Zilahy was presented with the 2015 Blazing Star Award. She was one of the founders of Green Horizon Land Trust in 1991 and served as the organization's president until 1995.
Myra received her early education in the Babson Park and Lake Wales public schools. She obtained her undergraduate degree from Tulane University and juris doctorate degree from the University of New Hampshire School of Law. She is licensed to practice law in New Hampshire and Florida. Prior to her involvement with the land trust, she served two terms as president of the Defenders of Crooked Lake. She counts among her conservation mentors some of the previous recipients of the Blazing Star Award.
Myra currently lives in Vero Beach, where she has been a board member of the Indian River Land Trust for over a decade. She also is the senior staff attorney with the Nineteenth Judicial Circuit Court specializing in civil litigation.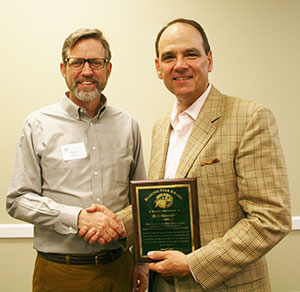 A Lifetime of Service
The 2014 Blazing Star Award was presented to Rick Dantzler. Rick has worked with environmental groups to protect the Everglades headwaters and to expand protected areas of Fisheating Creek. He also has written about environmental issues in many newspaper columns, magazine articles, and the highly acclaimed book, Under the Panther Moon. The book uses twenty-two fictional short stories, each constructed around an environmental issue, illustrating the challenges Florida faces with its increasing population growth.
A third-generation Floridian, he was raised in Winter Haven. Rick served in both the Florida House of Representatives and the Florida Senate. He also served as the USDA State Executive Director of the Farm Service Agency in Florida. Rick has practiced environmental and agricultural law and mediation, and is a Past President of GHLT.

In Partnership for Florida
Buck and Linda Cooper, recipients of the 2013 Blazing Star Award, are both Florida natives, and served as resident naturalists at Audubon/Street Nature Center in Winter Haven for 13 years. Buck and Linda are known for their contributions to every bird and butterfly survey and count in Central Florida, including Disney Wilderness Preserve, Colt Creek State Park, Lake Kissimmee State Park, Lake Louisa State Park, Kissimmee Prairie Preserve State Park, Circle B Bar Reserve, Van Fleet and Withlacoochee State Trails and Bok Tower Gardens.
Their volunteer activities give them an opportunity to share their passion for butterflies with others and over the years they have given programs on birds, wildflowers and butterflies all over Florida – from Niceville in the panhandle to the Florida Keys, and led many field trips for both birds and butterflies.
From 2007-2009 they were regional coordinators for Florida Natural Areas Inventory – surveying large public conservation lands for rare butterfly species. They both serve on the Technical Assessment Group that evaluates lands for possible purchase by Polk County's Environmental Lands Program.
Buck and Linda were the 1998 recipients of Florida Audubon's distinguished Allan Cruickshank Memorial Award for their conservation work in Florida. That same year they were recognized by the Florida Game and Freshwater Fish Commission (now FFWCC) with an award for their contribution to wildlife preservation.

A Legacy of Landscapes
In March 2012, Charles Geanangel joined the ranks of Blazing Star Award recipients as "as a rare conservationist dedicated to protecting Florida's natural resources and instilling through public education the value of preserving our beautiful outdoors for now and future generations."
Sadly, on November 9, 2012, after a life-time of dedication to nature, his story ends, but his inspiration lives on. Charles bequeathed $10,000 to the Green Horizon Land Trust to support the efforts he believed in. We hope you will be similarly inspired to consider Green Horizon in your estate planning.
From his memorial: "Chuck always had fantastic stories to tell of his travels and his experiences, but perhaps the best stories he has ever created are those that we now cherish in our memories of our times with him. He will be greatly missed."